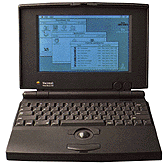 The $2500 PowerBook 100 was released with the other first-generation PowerBooks in October 1991. The PB 100 was the low-end version, for mobile Mac users with a budget. The PB 100 also has a very noticeable difference from the other early PowerBooks, it's almost two pounds lighter. This is due to the lack of a floppy drive (a $200 floppy drive could be added to the back of the PB though), smaller screen, small hard drive, and no sound recording capabilities. As you can see, the PB was missing a bunch of features, which was sacrificed for the low cost, it's almost half the cost of the PowerBook 170. It did have one special feature that was non-existent in the other first-generation PB models, it supported SCSI Disk Mode. This means that you can connect it to your desktop Mac and share files much faster than using file sharing (as had to be done with the other PBs). Even so, customers didn't think the PB's $2500 price tag justified its lack of many key features, and the machine didn't sell very well at all. Because of this Apple drastically cut down the cost of the machine to get rid of as many PB 100s it had in inventory as possible. Prices were found at anywhere from $700-900 dollars, and sometimes even lower, and the PB 100 was for a while the hottest machine on Apple's product line. In no time at all the machine was out of stock completely, to the delight of Apple vendors accross the country.
Code Name: Asahi, Derringer, Rosebud, Classic

Specifications:
Processor: Motorla 68000 running at 16 MHz.
Memory: came with 2MB, expanadable to 8MB using 100ns pseudostatic RAM card.
Display: built-in 9-inch diagonal, 640 by 400-pixel monochrome passive-matrix LCD display.
Drives: 20 MB hard drive, no disk drive included but one was available for $200 that attached to back.
Battery: Lead-acid battery, lasts about 2 hours.
Weight: 5.1 pounds
Operating Systems:
Mac OS: comes with 7.01, supports System 6.07-7.01, 7.1, 7.11 Pro, 7.5-7.51, 7.53-7.55.

On the market for: 10 months.

Interesting Facts:
Besides the fact that the PowerBook 100 is the only one of the first PBs that can run in SCSI Disk Mode, it is also the only one that can run versions of System 6 (6.07 and 6.08 to be exact). This was good news to PB users who often tried to conserve as much of the PB 100's puny 2MB of RAM as possible.

Resources & Related Links:
David Pogue's and Joseph Schorr's Macworld Mac SECRETS.
Picture from A History of Apple Computers.