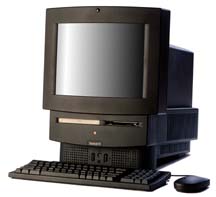 Gracing the cover of the February 1994 issue of Macworld, this slick-looking machine turned the heads of many Mac users when it was introduced. Released in October of 1993, the Mac TV was the first all-black Mac, but more importantly the first Mac to display a TV/VCR signal. With its NTSC TV Tuner Card (only NTSC was supported, therefore it wasn't sold internationally) this LC 5xx-style machine could switch from doing your dull work to broadcasting your favorite network or cable channels with a single keystroke. It even came with a cool looking black remote control that could be used for both the TV and the CD player. It could also capture single frames of whatever you're watching and save it as PICT files. You'd think this should've been a popular machine when it was released with all of these features. Unfortunately, that's not the way it happened. The Mac TV also had many drawbacks. First, you couldn't capture a movie or TV scene to be saved in QuickTime format. Nor could you watch TV in a small window while you did your work (though you could hear the TV while you worked). It's expansion options were slim, holding only 8 MB of RAM, and a sole PDS slot. It was also very scarce, selling in only some 250 stores. Because of this, the highly touted machine died quitely 5 months after its release. Sadly, it is yet another example of good, practical technology that just wasn't sold correctly. On the bright side, the Mac TV laid a foundation for future AV-capable Macs. The shortcomings were later looked at and fixed in the future AV Macs and the Apple TV/VI System.
Code Name: LD50
Specifications:
Processor: Motorola 68030 running at 32 MHz.
Memory: came with 5MB of RAM expandable to an 8MB 72-pin 80ns SIMM, and a 1MB ROM.
Drives: a built-in Apple SuperDrive 1.4MB floppy drive, an internal AppleCD 300i 2x CD-ROM drive, and an internal 160MB SCSI hard drive.
TV/Video: an NTSC TV Tuner, cable ready with 181 channel capability. RCA-type video ABD sound input for VCR, camcorder, laserdisc, or game player.
Ports: coaxial port for television antenna or cable service, two ADB ports, two mini-circular 8 serial (RS-422) ports, and one DB-25 SCSI port.
Display: built-in 14" Mac Color Display, supporting 8-bit color at 640x480 in Mac mode and 16-bit color at 640x240 in TV mode.

Operating Systems:
Mac OS: requires at least System 7.1, but can run up to 7.55. Can run Mac OS 8.1 with proper upgrade.
ProDOS: all versions via IIe PDS card or emulation.
GS/OS: all versions via IIe PDS card or emulation.

On the market for: 5 months
Interesting Facts:
As I said, the Mac TV's code name was "LD50". In the medical field, this means "lethal dosage 50%", which means half the people that take it will die. Apple developers probably didn't know this, but others must've because it caused some contraversy.

Resources and Related Links:
Apple's Technical Information Library
David Pogue's and Joseph Schorr's Macworld Mac SECRETS.
Picture above from Sun Remarketing.