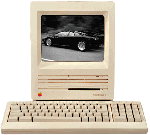 The Mac SE/30 was released in January of 1989, almost two years after the original SE. Using Motorola's new 32-bit 68030 processor running at 16 MHz, it was a whopping four times faster than its predecessor. This and many other features made it much more popular than an SE, and one of the most popular in the platform. Like the SE, it brought a lot a firsts with it. It had the first Floating Point Unit (FPU) math coprocessor to speed mathematical computations. It also was the first to ship with the 1.4 MB SuperDrive (formerly Apple FDHD) disk drive, which could finally read MS-DOS formatted disks. It was the first to include color QuickDraw capabilities, which could be used for an external color monitor hooked up to its Processor Direct Slot (PDS). The SE/30 shipped with anywhere from 1 to 8 MB of RAM, but was capable of 128MB with 30-pin DRAM chips. Also included a standard 3.5" 40MB or 80MB HD in its second drive bay. The SE/30 had better sound capabilities, with its built-in Apple Sound Chip (ASC) which had a 4-voice, wave table synthesis and stereo generator. This allowed it to power compatible stereo equipment or headphones, which were much nicer than the relatively cheap built-in speakers. This venerable machine has many faithful users now a little distraught that Apple killed '30 support in new versions of the Mac OS starting with version 7.6.
Code Names: Green Jade, Fafnir
Specifications:
Processor: Motorola 32-bit 68030 processor running at 16 MHz.
Memory: included 1-8 MB of RAM, 256k ROM
Drives: a 1.44MB Apple SuperDrive , as well as a 40MB or 80MB 3.5" HD in it's second drive bay.
Display: built-in 9-inch diagonal, 512 by 342-pixel bitmapped display.
Expansion: 1 PDS slot, 1 extra drive bay.
Ports: two ADB connectors, two RS-232/RS-422 serial ports, SCSI interface, ASC sound chip with stereo capability

Operating Systems:
Mac OS: supports System 6.04-7.01, 7.1, 7.11 Pro, 7.5-7.51, 7.53-7.55.

On the market for: 1 year, 10 months.
Interesting Facts:
I took a trip to New York City in December '97, and was able to visit the Museum of Modern Art. Though the museum itself wasn't as impressive as I had hoped, I was struck with utter pride to see a Mac SE on permanent display next to other great works of art in this century. Why not? That was what Jobs wanted in the first place (and probably had something to do with it). Though they mislabeled the model and release date, at least they got the design company, frogdesign, correctly.

Though the SE/30, along with the Mac II, IIx, and IIcx had 32-bit processors, they could not support 32-bit addressing (be 32-bit clean). The Se/30 used only 24 bits instead of the entire 32. Because of this, some SE/30 are limited to 8MB of RAM instead of 128MB. You need the 32-bit Enabler extension provided with System 7.1 to actually address all 32 bits, or make it "clean".

Resources and Related Links:
Apple's Technical Information Library
David Pogue's and Joseph Schorr's Macworld Mac SECRETS.
Picture above from Sun Remarketing.