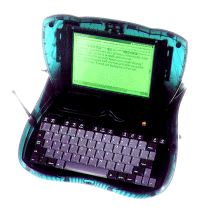 The eMate 300 finally takes Newton-based systems into the education market. The eMate 300 is unlike any other computer, designed to take the abuse that would make any PowerBook or MessagePad user scream in terror. It has a rugged translucent shell to protect it from several drops from high altitudes like desks, bookbags, etc. It also hides all the circuitry under the shell to prevent any dirt, food, drinks, or water from shorting out the machine. This is a feature unfortunately absent from other Apple keyboards as anyone who eats while computing can tell you. The keyboard also has function keys on the top, which does away with the button bar on the MP. But probably the most appealing feature for its young demographic is the fact that it looks really cool. The eMate runs a 25 MHz 710a RISC processor and has 3MB RAM, and 2MB of flash memory to store applications and files. It runs Newton OS 2.1, comes bundled with a word processor, drawing program, spreadsheet, graphing calculator, address book, calendar functions, and more. It is compatible with all of the Newton 2.0 shareware, and commercial applications available from Apple, and other third-party developers. It has a screen that is slightly larger than that of a MessagePad 2000, but has the same 480x320 backlit grayscale display. It also has a serial port that can connect to printers and an AppleTalk network, and send files using its infrared IrDA port at up to 115 kbps within 1 meter. You can also upload the eMate's files to both Mac OS and Windows-compatible computers.
Code Names: Project K, Shay, BatNewt (more of a post-production nickname really).
Specifications:
Processor: 25 MHz 710a RISC processor.
Memory: 3MB RAM, 1MB DRAM, 2MB of flash memory (where files are stored), and an 8 MB ROM.
Display: a 480x320 gray-scale backlit display (same as MP 2000 only slightly larger) and can display up to 16 shades of gray.
Ports: Built-in speaker and sound I/O ports. Serial port for connecting to printers and AppleTalk network.
Expansion: PCMCIA card slot for Type I, II, or III cards.

Operating Systems:
Newton OS: ships with 2.1, but compatible with 2.0 applications.
Interesting Facts:
This little machine has gained a lot of recognition and press time. Nicknamed "BatNewt" it made its big screen debut in "Batman & Robin" opposite the 20th Anniversary Macintosh, as Batgirl's trusty computer. It is also the model used for the "wind-up" device, which researchers created to use with small mobile computers in places without electricity. Just wind-up the machine and you get instant power. I am currently looking for the link of a movie clip I downloaded showing how it works.

Resources and Related Links:
The eMate 300 entry of the excellent Newton Gallery.
Apple Tech Info Library & Apple Education products.
Picture from Newton Gallery.